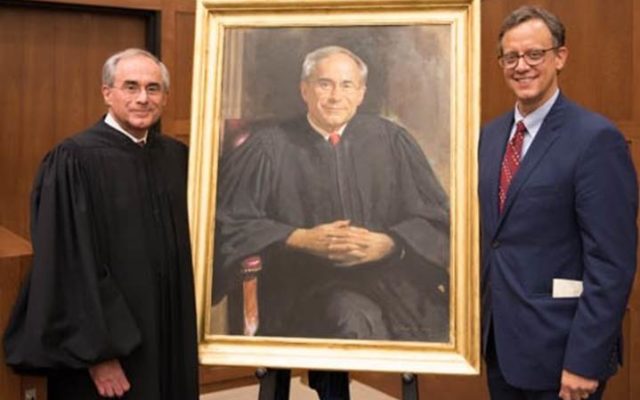 SINGAL
U.S. District Judge George Z. Singal and Florida artist Kyle R. Keith flank a portrait of Singal that will hang in the third-floor courtroom of the Margaret Chase Smith Federal Building and Courthouse. Courtesy of Maine U.S. District Court
Judge Singal's immigrant experience inspires new generation
By Judy Harrison
For The Weekly
BANGOR — One of George Singal's favorite things to do as a federal judge is administer the Oath of Citizenship to immigrants. Singal understands what many of them have experienced because his own family fled the Nazis in Poland in World War II.
"Often in the courtroom in front of me are recent refugees from the Horn of Africa, many of whom have fled horrible warfare," he said earlier this month when his portrait was unveiled in Bangor. "They sit at the beginning of that citizenship ceremony looking at a black robe talking to them, waiting to be sworn in so they can go home. There's little identification in their eyes.
"But midway through my discussion with these people, I tell them that just like them, my family came out of a war," he continued. "I tell them that, just like them, my family came here without possessions or knowledge of the language. And just like them, this country provided me the opportunity that enabled my family of immigrants to thrive. They look at their children sitting next to them and wonder whether they too will have the ability to sit on the bench of a court and talk to the next generation of immigrants in the same way."
Singal's parents, Malka and Louis Singal, and their young daughter left their home in eastern Poland in 1942 as the Nazis invaded the village, according to the Bangor Daily News archives. The family lived in a Polish forest during a frigid winter, finally meeting a group of resistance fighters. The group did not want to accept children, but Malka Singal convinced the leader that her 4-year-old daughter should be welcomed into the encampment and that the entire family deserved the group's protection.
For about four years, the group roamed the forest, gathering food and trying desperately to stay one step ahead of the Nazis who were constantly searching for them. In 1944, the Russians liberated the group of resistance fighters and the villages in Poland. The Singals returned to their village only to find it wrought with anti-Semitism.
Feeling unwelcome, the family decided to leave their home and seek refuge in Italy. Louis Singal died before the family departed, leaving Malka Singal five months pregnant with her son. She and her daughter journeyed 1,000 miles across the Alps to Italy, where she gave birth a few months later in a refugee camp on Florence.
The family arrived in New York City four years later and came directly to Bangor. Singal, his mother and sister were naturalized in 1956. He graduated from Bangor High School and the University of Maine before earning his law degree from Harvard University.
Singal said that he wanted his portrait to hang in Bangor because his journey as a judge began in the Queen City but also because the companions he has carried with him, including his immigrant experience, are based in the city where he grew up and practiced law for 30 years.
"This immigrant experience that grew inside of me while living in Bangor was a companion in my journey as a judge," he said. "That includes a belief in the richness of this county, in the innate goodness of this country and the fact that this country provided the opp for everyone to create a world for themselves."
Singal spoke July 14 to family, friends and former colleagues when his portrait was unveiled in the third-floor courtroom in the Margaret Chase Smith Federal Building and Courthouse on Harlow Street in Bangor. The 71-year-old jurist took senior status, a kind of semi-retirement for judges, in 2013 but continued working full time.
He was nominated by President Bill Clinton to the post on May 11, 2000. Singal, a Democrat, was confirmed by the U.S. Senate with support from Republican Sens. Olympia Snowe and Susan Collins the following month and took the oath of office in July 2000.
Traditionally, judges who take senior status have their portraits hung in the courtrooms where they've presided most often. The paintings are not paid for with taxpayer dollars but with private donations from former law clerks, family, friends and attorneys.
A nearly identical portrait of Singal, painted by the same artist,  Kyle R. Keith, of Jacksonville, Florida, hangs in the ceremonial courtroom in the Edward T. Gignoux U.S. Courthouse in Portland. He is the only judge in Maine to have his portrait displayed in both federal  courthouses.
All of the living U.S. District Court judges who have served in Maine attended the portrait unveiling. George Mitchell, Gene Carter, D. Brock Hornby, John Woodcock, Nancy Torresen and Jon Levy joined Singal on the bench for the event in Bangor and spoke about him.
Mitchell, who served as a federal judge in Bangor from October 1979 to May 1980, described Singal as a man of "keen intelligence with an unimpeachable integrity" and "a deep sense of fairness."
"George Singal was a great lawyer and he has become a great judge," U.S. District Judge John Woodcock said. "He is a trial lawyer's judge. One who knows and applies the rules and demands the highest standard of practice in the courtroom. He is an oral advocate's greatest friend and his worst nightmare. Judge Singal has a knack for taking out his inquisitorial laser and exposing the weakness in a lawyer's argument."
Carter, a Milbridge native, said that Singal's rise from an immigrant who spoke no English to the federal bench was because of "the freedom and liberty we all enjoy."
"Judge Singal's story inspires us to reflect on what America means to all of us," Carter said.